Tube Polyester Lanyards
Quick Overview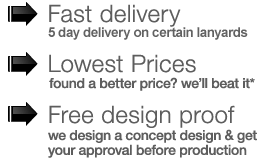 Promotional tube polyester lanyards are made from premium polyester woven into a boot lace style. They are between 10 & 12mm in thickness and can be screen printed with your choice of branding in up to 4 colours.
Because tubular polyester does not have edges like flat polyester or nylon, they are extremely comfortable and low irritant making them perfect for badge carrying and conference requirements.
Available in 10-12 mm polyester, printed with your branding. Standard length is 900mm however these lanyards can be cut to any length.
Minimum Order 50 Units