Printed PVC Lanyards
Quick Overview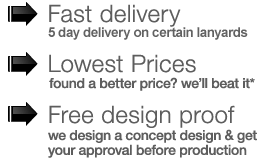 Promotional PVC lanyards are a premium alternative to standard polyester lanyards or nylon. They are washable which makes them ideal for medical use. Are available studded, stitched or crimped and offer a perfect solution to any client.
Available Screen printed in up to 4 colours we can match the pvc lanyard material to specific colours if required. Combine with a selection of clips and fittings for the perfect lanyard.
Standard length pvc lanyards are 900mm and we manufacture widths in 10, 15, 20 and 25mm pvc.

Other widths are available on large volume orders.
.
Minimum Order 50 Units