Customised Camera Straps
Quick Overview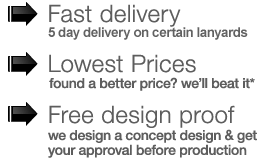 Premium promotional camera straps. The perfect way to advertise while people take pictures or use cameras and devices.

• Perfect up to 4 colour logo.
• Strong and durable.
• Comfortable to wear.
• Unlimited print around the entire strap length.
Minimum Order 50 Units
Printed: Flat polyester or nylon material is produced with your logo printed onto the material length. An optional clear base print is layed down to increase clarity on your request.

Woven: This is where the logo and message is woven directly into the length of the strap and becomes an integral part of the material and can not fade or wear off over time.
Details


Printed polyester lanyards are our most popular lanyard. They are available printed in up to 4 pantone colours and come standard with J hook fitting. We have several standard colours available. We can also match polyester lanyards to any colour. This keeps your lanyards in line with your corporate branding or logo colours.