Duoflex Lanyards
Quick Overview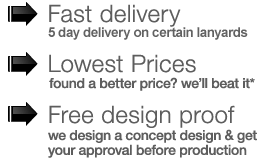 Premium flat singler layer polyester lanyards with sections of promoflex pvc decals. Custom moulded to your own design and assembled with a choice of standard fittings.

All duoflex lanyards feature pantone matching on both PVC sections & material, we can produce a 3d pvc section in up to 4 colours in a bespoke cut shape to meet your needs!

Material widths include: 10,15,20 and 25mm widths with custom cut pvc section.
Minimum Order 50 Units