Adjustable Lanyards
Quick Overview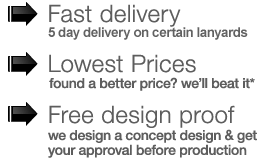 Adjustable lanyards are excellent for medical use, they re-size to fit the wearer which means less chance of getting them caught in other equipment or items.

Safety fittings are usually re-located to the side and print can be applied to fit in with this arrangement.

The adjustable lanyards offer extra safety over the standard safety lanyards. They are available in 10, 15, 20 and 25mm widths.
Minimum Order 50 Units
Details


Printed polyester lanyards are our most popular lanyard. They are available printed in up to 4 pantone colours and come standard with J hook fitting. We have several standard colours available. We can also match polyester lanyards to any colour. This keeps your lanyards in line with your corporate branding or logo colours.